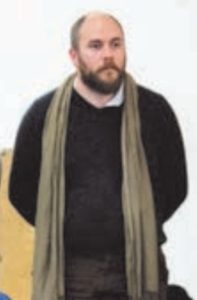 You may remember Francesco Gennarini, the son of Neocatechumenal super-catechist Giuseppe Gennarini and one of the two architects who received tens of thousands of dollars for the design of two Neocatechumenal buildings here on Guam that never got built.
Well, Francesco, we have learned, is not only an architect, but also a Neocatechumenal catechist like his father!  Listen to him teach a most amazing thing (click on the orange circle):
"What kills him. A cancer.  A cancer doesn't kill me.
A cancer is something that the Lord has sent for my well-being, for my good.
Oh wait. But I'm going to die…of the cancer. I'm going to die.
Yeah, but maybe that cancer is the only thing, the only thing that ties you to God.
So this crisis of faith that separates…um…um…which divides man, uh, from um…ooph…where were we..[giggles from audience]..let's see…"
Yes, deadly cancer is sent to us by God, according to Francesco.
The younger Gennarini is teaching a half-truth, and the Church and the Gospels tell us is something quite different.  While God certainly allows tragedy in our lives, He does not directly will it or send them to us.  To say that God allows evil is entirely different than saying He sends evil.  He doesn't send cancer to us, any more than he sends a drunk driver to kill a child.  But good can come out of tragedy, with His grace.
Or what man of you, if his son asks him for bread, will give him a stone?  Or if he asks for a fish, will give him a serpent?   If you then, who are evil, know how to give good gifts to your children, how much more will your Father who is in heaven give good things to those who ask him! Matthew 7:9-11
and
"because God did not make death, and he does not delight in the death of the living." Wisdom 1:13
and
"For the Omnipotent God, whom even the heathen acknowledge as the Supreme Power over all, would not allow any evil in his works, unless in his omnipotence and goodness, as the Supreme Good, he is able to bring forth good out of evil. " St. Augustine, Enchiridion
On Faith, Hope, and Love, 11
Unfortunately, the notion that God sends evil into the life of Christians is an established Neocatechumenal doctrine, as Kiko's twisted interpretation of the ninth chapter of the Gospel of John proves.  Listen to it being taught by a Neocatechumenal priest:
I suppose that Catholics who have not been properly taught the Faith might not understand the difference between God sending evil and God allowing evil, but here were are talking about a man who dares to call himself a catechist, a man commissioned by  some bishop to teach the Faith.  This is truly scandalous.