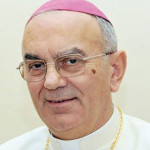 I recently sent a short message to the Catholic bishop of the Vicariate of Northern Arabia regarding Guam's Fr. Luis Camacho.  Fr. Camacho is from Guam, and was whisked from Guam one year ago after being caught by the Guam police while having sexual contact with his 17 year old altar girl in a car at a secluded beach park.  At the time of this incident, Fr. Camacho was the pastor of two parishes.  He immediately resigned and was rushed off the island by leaders of the Neocatechumenal Way, a sectarian Catholic group.
But we recently found him  in the middle east country of Qatar, ministering in that country's only parish to …brace yourselves…a large Catholic youth group: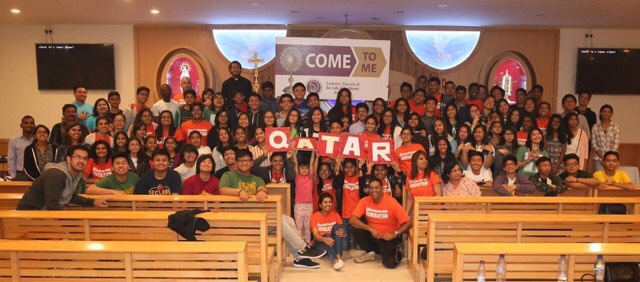 Bishop Ballin, who says that he is now Fr. Luis's bishop, responded to my message very quickly:
Subject: Re: Fr. Luis Camacho, Our Lady of the Rosary, Dofa, Qatar
From: Bishop Camillo <[email protected]>
To: Charles White <[email protected]>

Mr (?) Fr. (?) Charles White,

I received your e-mail with the links.

Why do you spread over all the world what is strictly personal to Fr. Luis? I am now his Bishop; do you think that I don't know his situation and why he is here in my Vicariate? Do you think that I am so imprudent as to accept a priest without knowing his personal background? So, why, do you send to me and to others all this information which is very partial? What is your aim in doing that? The good of Fr. Luis, or of the Church? It is not you who is in charge to save the Church in my Vicariate. Be ashamed! If you are without sin, be the first to throw a stone at him!

+ Camillo Ballin
Bishop Camillo Ballin, mccj
Apostolic Vicar of Northern Arabia
(Bahrain, Kuwait, Qatar, Saudi Arabia)
Bishop's House
P. O. Box 25362
Road 4603, House 137 / 125 Block 946
AWALI (Bahrain)
Website: www.avona.org
Bishop Ballin says that Fr. Luis's sexual contact with the girl is "strictly personal to Fr. Luis".
Huh?  Will these guys with the red hats ever learn?
Luis Camacho's act devastated both of the parishes he served, and those parishes are still suffering to some degree today.   He abused the position of trust and authority that he had in our community and indeed, leveraged that position, in order to take advantage of a vulnerable young girl.  Powerful leaders of the Neocatechumenal Way then quickly hurried Fr. Camacho away from Guam and eventually "hid" him with their bought man in Qatar.  No apology.  No investigation.  No prudence.  No real consideration for the good of Fr. Luis or the people he serves.

It's another cover up in the Catholic Church.  And Bishop Ballin wants me to "be ashamed"?!?