Coming To A Parish Near You!
Perhaps you didn't know, but Kiko Argüello, the founder and leader of the Neocatechumenal Way,  is an accomplished artist, and his work is very popular among his followers.  Here's a sample of his icons and paintings of our Lord, with our Lord as an infant in the two in the lower left side: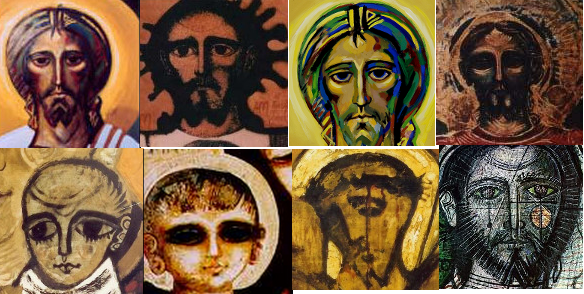 Some of Kiko's critics in Europe insist that he often inserts his self-portrait into the faces of our Lord that he paints.  I've seen the evidence, and I'm really not convinced.  Well, maybe with one exception.  Check out Kiko's 1979 "Buen Pastor" (Good Shepherd):
You be the judge.
In any event, seeing Jesus with short hair and a receding hairline is a bit disconcerting, don't you think?  And just think, this art will be coming to a parish near you soon!
Tags:  Camino Neocatecumenal, Cammino Neocatecumenale