A look at Kiko Arguello's antipathy toward natural religiosity.
I'd like to give you some questions to ask the catechists if you find yourself in the third night of the initial catechesis of the Neocatechumenal Way.  On that night, the presentation will turn to the topic of "Natural Religiosity" and "Adult Faith." Kiko's approach toward natural religion, which is man's natural inclination toward God, a sense of the sacred, and the offering of sacrifice and prayers of supplication, is significantly different from the approach of the Church.
In short, Kiko pits "adult faith" (which is a good and necessary thing) against "natural religion" (another good thing) and seeks to replace natural religiosity with adult faith.  The Church, on the other hand, teaches that adult faith is actually built on the foundation of natural religion and that grace can perfect it.
Kiko has a thirteen volume Catechetical Directory used by his catechists, and in the first volume of this directory, Kiko uses the phrases "natural religiosity" or "natural religion" at least forty times.  He acknowledges that man is naturally religious, and asserts that it is a good thing, but then goes on to say:
"But man, because of sin, corrupts it, trying to put God at the service of his own selfishness. In the catecheses I am referring to such natural religiosity corrupted by sin. (emphasis added)"[1]
Now, if we were asked about "natural religiosity corrupted by sin", many of us would think of the Canaanites offering their children to their god Molech[2], or of Ahab and Jezebel and their Ba'al.[3]  However, that's not what Kiko means at all by the term, and he quickly shows us this by drawing us a picture[4], which your catechist might draw for you too: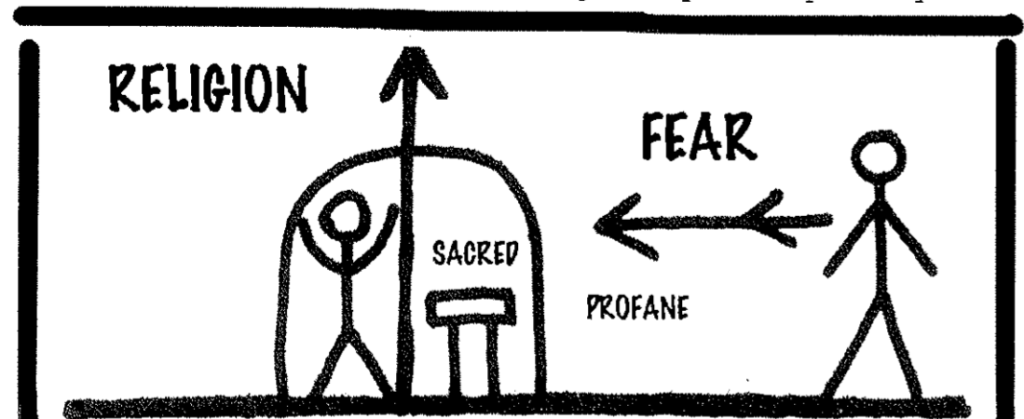 The stick figure on the left is a priest, and the table in front of him is an altar.  The stick figure on the right is you.  And, lest you think that by "fear" Kiko means merely "an emotional response to danger", he is very quick to tell us that he means "awe", as in "awe of the sacred":   "All natural religiosity is based on awe, on the sense of fear."[5]  or
 "…if you happened to sit near the tabernacle, you felt your heart miss a beat because you were approaching the untouchable, the place where the sacred is."[6]
So by "natural religiosity corrupted by sin", he really means the tendency for people to hold priests, altars, sacrifice, and sacred places as important in their faith.  Kiko goes as far to proclaim, "Natural religiosity has infiltrated Christianity,"[7] and that "we Christians have an infantile faith of natural religiosity."[8]
Kiko also impugns natural religiosity by consistently and pejoratively referring to our sacred places, our churches, as "temples".  Here are some examples:
"…he immediately creates a religion, builds a temple, sets up an altar and makes a priest to serve as an intermediary…Little by little, things become complicated and religions degenerate. Since many people go to pray, to ask for things and to offer other ones in exchange, you need someone to take care of the temple. So some priests are put in place. The temple is full of people, especially when there are calamities."[9]
Or further,
"In this religious scheme, what is sacrosanct is the temple and all that is connected with it, the altar, the priest and everything that is offered to God."[10]
and,
"In natural religiosity, when things are going well, man does not worry about God; but when some misfortune happens, he runs to the temple."[11]
If you hear the catechists parrot any of these statements, you might want to interrupt and say,
"Excuse me, I have a question.  If that's true, then don't nearly all the Psalms express a natural religiosity? 
For example, "In my distress I called upon the LORD; to my God I cried for help. From his temple he heard my voice, and my cry to him reached his ears."[12]  Or  "But I, through the abundance of thy steadfast love, will enter thy house, I will worship toward thy holy temple in the fear of thee." [13]
Kiko also criticizes the sacrificial aspect of natural religion.  According to him,
 "God did not begin by refusing the sacrifices of goats and cows, but he began from there to lead his people to a purer liturgy and spirituality."[14]
and
"In natural religiosity you need a priest with a beautiful cassock to administer the worship for you…."[15]
Kiko wants us to believe that God accepted the Old Testament sacrifices and priests rather reluctantly, and really did not intend the sacrifices to have any long term significance.
If you hear the catechists parrot any of these statements, you might want to interrupt and say,
"Excuse me, I have a question.  If that's true, then why is the Old Testament loaded with examples of God commanding the sacrifice of animals?  Didn't He intend them to prefigure Jesus's sacrifice on the Cross?
For example, in Deuteronomy, we read, "But the holy things which are due from you, and your votive  offerings, you shall take, and you shall go to the place which the  LORD will choose, and offer your burnt offerings, the flesh and the blood, on the altar of the LORD your God; the blood of your sacrifices shall be poured out on the altar of the LORD your God."[16]
Or  you might say,
"Excuse me, I have a question.  Wasn't the offering of temple sacrifices still quite the norm during Jesus' time?"
Indeed, in the time of Jesus, the offering of temple sacrifices was still the norm!  If it were not so, then the constant references to the sacrifice of the Passover lamb in the Gospel of John would made no sense to the early Christians. If one holds, as Kiko does, that natural religiosity has infiltrated Catholicism and must be eliminated, it is no wonder that he has his followers worship apart from the rest of the baptized faithful, to protect them from being polluted by natural religion and by us, much as the Israelites of old separated themselves from their pagan neighbors.
The inclination of men, throughout history and across all cultures to offer supplications and sacrifices on altars is part of our God-given instinct and was meant as a foreshadowing or "type" of the New Covenant which brings them to perfection.[17]
Let us reject this sectarianism and instead follow the dictum of St. Thomas Aquinas, a Doctor of the Church:  "Grace does not destroy nature but perfects it."[18]
---