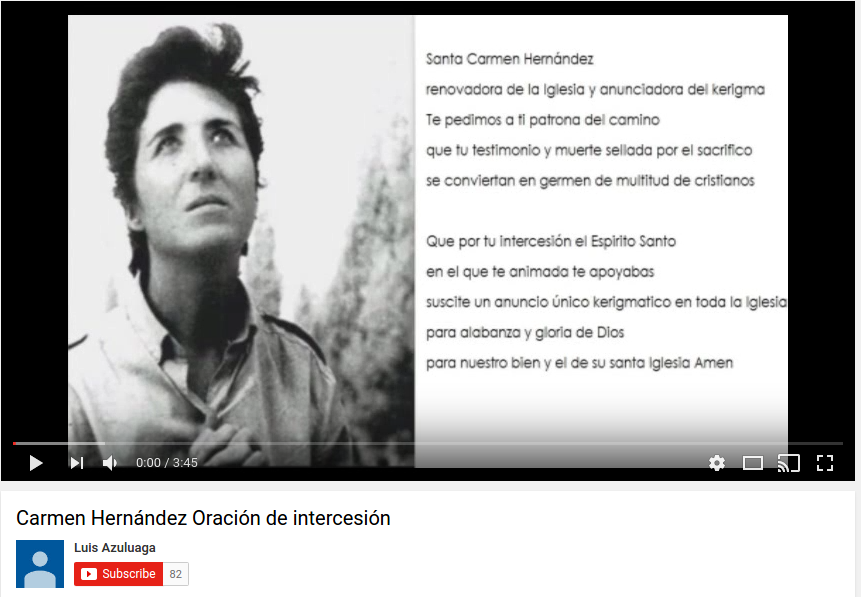 Today, July 19, 2017, marks the first anniversary of the death of Carmen Hernandez, the co-founder of the Neocatechumenal Way, Kiko has already pronounced her to be a saint "of a superior category" and now the sect is now redoubling its efforts to get her canonized.
Last month, on June 21, 2017, Kiko announced the publishing of her diary, "Diarios 1979 – 1981".  He also said that procedures had been initiated for her canonization.
Now we are beginning to see formal prayers to her like this one popping up on the internet (translated from Spanish):
Holy (Saint) Carmen Hernandez
Renewer of the Church and herald of the Kerygma
We ask you, Patroness of the Way
May your testimony and death sealed by the sacrifice
Become a seed of a multitude of Christians
That through your intercession the Holy Spirit
Which enlivened and supported you
Raise a unique kerygmatic announcement throughout the Church
To the praise and glory of God
For our good and that of His Holy Church. Amen
Members of the sect, if they consider themselves Catholic, would do well to obey the norms to be observed in pursuing the causes of saints, which were recently reiterated by Pope Francis:
"Any solemn celebrations or panegyric speeches about Servants of God whose sanctity of life is still being legitimately examined are prohibited in Churches. Furthermore, one must also refrain, even outside of Church, from any acts which could mislead the faithful into thinking that the inquiry conducted by the Bishop into the life of the Servant of God and his virtues or martyrdom or offer of life carries with it the certitude that the Servant of God will be one day canonized".  Article 36
References
Normae servandae in inquisitionibus ab Episcopi facendis in Causis Sanctorum, http://www.causesanti.va/content/causadeisanti/it/documenti/normae-servandae_en.html, retrieved July 17, 2017.
Osservatorio sul Cammino Neocatecumenale secondo verita, https://neocatecumenali.blogspot.com/2017/07/preghiera-una-santa-di-categoria-superiore.html, retrieved July 17, 2017
Crux Sancta blog, http://cruxsancta.blogspot.com/2017/07/kikochiste-de-categoria-superior.html, retrieved July 17, 2017.