Take a few minutes to listen to Fr. Edwin "Pius" Sammut OCD, the lead Neocatechumenal catechist for Guam, praying with a room full of Neocatechumenal leaders.
Shall we say a prayer? Courage.
In the name of the Father, and of the Son, and of the Holy Spirit.
[Brothers say "Amen"]
Father, we thank you and we bless you because you are infinitely merciful with us. Because you are full of kindness, full of understanding. You are the only one who uh accepts us as we are without demanding anything.  We thank you Father, and we bless you, for your infinite mercy with us sinners.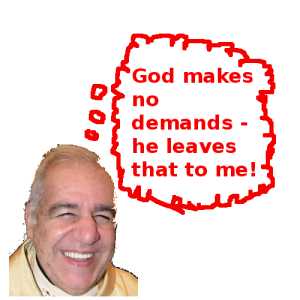 Fr. Pius is very eloquent in speaking of God's mercy, but his declaration that God does not demand anything of us reminds me of Kiko's teaching:
"It is useless to say: "Sacrifice yourself, be nice to each other, love each other." If someone tries to do so, he'll become the greatest Pharisee, because he will do everything for his own personal perfection and will judge others." Day 7, "the Kerygma", p 129, Catechetical Directory, Vol. I.
In other words, God makes no demands, so don't even try.
Hmmm.  I can think of a few demands that God places upon us, demands we face with His grace.  How about these:
"Jesus said, 'Neither do I condemn you; go, and do not sin again.'" John 8:11b
or
"You, therefore, must be perfect, as your heavenly Father is perfect." Matthew 5:48
or
"Much will be required of the person entrusted with much, and still more will be demanded of the person entrusted with more."  Luke 12:48b
or
"A new commandment I give to you, that you love one another; even as I have loved you, that you also love one another.  By this all men will know that you are my disciples, if you have love for one another." John 13:34-35