Thanks to microscopy, digital photography, and the Olympus BioScapes International Digital Imaging Competition, creation which was once invisible is now visible to us in stunning color and detail.  The Olympus Bioscapes contest with its extraordinary images was initiated by Olympus, the camera company, in 2004.
O LORD, how manifold are thy works!  In wisdom hast thou made them all;  the earth is full of thy creatures.  Yonder is the sea, great and wide, which teems with things innumerable, living things both small and great.  Psalm 104:24-25
Check out this year's winner, a carnivorous water plant: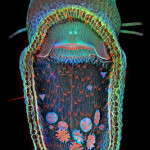 or my personal favorite, coming in 9th place,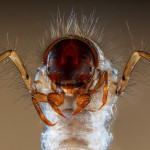 You can enjoy the whole gallery winners and honorable mentions by clicking here.  Other photos of this year's winning photographer, Dr. Igor Siwanowicz,  can be found here.
 "I believe in one God, the Father Almighty, maker of heaven and earth, and of all things visible and invisible…"  Nicene-Constantinopolitan Creed, 381 AD