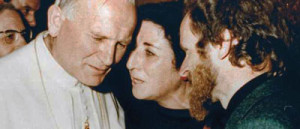 Carmen Hernandez Barrera, the founderess of the Neocatechumenal Way, is a member of one of the wealthiest families in Spain.  She jointly owns land with her wealthy siblings, and at least one of her siblings has donated a sizable amount of money to a foundation controlled by Carmen and Kiko.
Here's the proof.
First, the following men and women are siblings, and according to this recent Bulletin of the Province of Soria (and confirmed by Official State Bulletin), jointly own land together:
HERNANDEZ BARRERA ANUNCIACION

HERNANDEZ BARRERA CARMEN

HERNANDEZ BARRERA FELISA PILAR
HERNANDEZ BARRERA ANTONIO
HERNANDEZ BARRERA TELESFORO
HERNANDEZ BARRERA PETRA ELISA
HERNANDEZ BARRERA MILAGROS
HERNANDEZ BARRERA ELIAS
HERNANDEZ BARRERA FELIX CONSTANCIO
Source:
Official State Bulletin, February 14, 2012.  https://www.boe.es/diario_boe/txt.php?id=BOE-B-2012-4895
Official Bulletin of the Province of Soria, January 16, 2012, page 2.  http://bop.dipsoria.es/index.php/mod.documentos/mem.descargar/fichero.documentos_27_55ae1190%232E%23pdf or here .
---
Four of these siblings, Antonio, Félix, Telesforo  and Elías, founded "Herba", the precursor of Erbo.
"Ebro is a multinational food group operating in the rice, pasta and sauces sectors. Based in Spain, it has commercial and/or industrial presence in more than 25 countries in Europe, North America, Asia and Africa, through its extensive network of subsidiaries and brands. It is global leader of the rice sector and the second pasta manufacturer in the world."
Sources:
http://www.diariodesevilla.es/article/sevilla/1124473/fallece/antonio/hernandez/barrera/fundador/herba.html
---
The Hernandez Barrera family is one of the wealthiest families in Spain.
Source:
---
According to this Bulletin Of State, The Estate of Petra Elisa Hernández Barrera donated over $130,000 to the Hernandez Barrera – Domus Galilae Foundation.  The bulletin says that the Foundation is registered with the Spanish Ministry of Culture and that Carmen is president of the board.
Sources: