Bishop Camillo Ballin MCCJ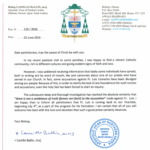 of the Vicariate of Northern Arabia has published a letter dated June 25, 2016 saying that Fr. Luis has been exonerated by the Holy See!
In his  letter, Bishop Ballin says:
that the accusations against Fr. Luis were "lies and calumnies"
The Holy See was "forced" to conduct an inquiry
The investigation was "deep and thorough"
The investigation reached "an absolute certainty" that there is "not a semblance of truth to the accusation made against Fr. Luis"
Fr. Luis will return to the Vicariate on July 4, 2016 as "part of the program for his formation"
If that's the case, I can't wait to hear the results of the Holy See's investigation into the claims of Roy, Doris, Walter and Roland!
See the Bishop's letter here:
[pdf-embedder url="https://thoughtfulcatholic.com/wp-content/uploads/2016/06/fr_camacho_letter-1.pdf"]